Journal Experiment: Revolver Revue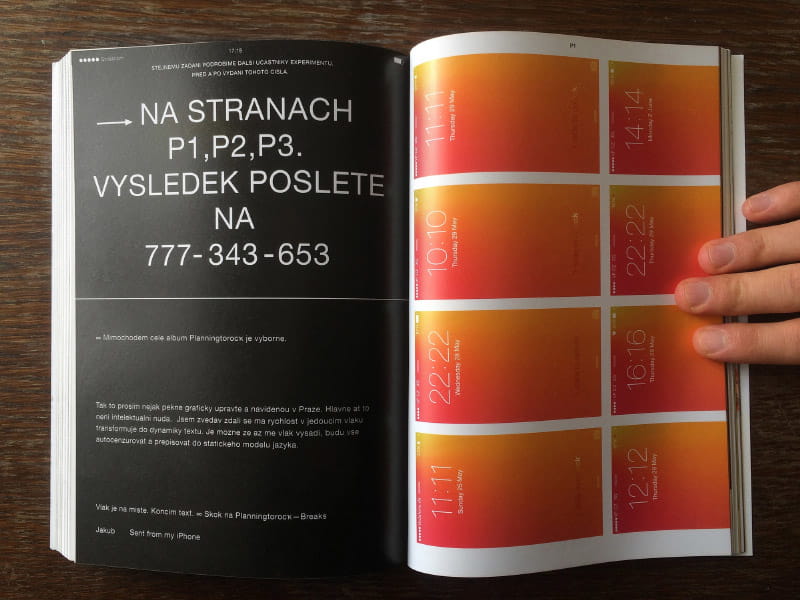 Petr Babák sent me mail asking for utopia. I send him an answer, I have an hour on the train. I started with AutoText, and came out of it essey about coincidence and a simple planetary experiment on accelerating the speed of light.
Babak's Text:
In the morning Jakub Jansa takes radon baths. Always in a room bathed in sharp red radiation, where rays of yellow light slightly cut back and forth, into his soft and heated, high temperatured loosened skin, until derma resembles gray plasticine. This would be enough for someone to start the day, but Jakub goes right on a higher level. Bids: cryotherapy, lymphatic drainage, inflate the gas injection, African xyloph bath, relaxing bath Gold rosa, balneotherapy, then he takes cupping, Calmon bath, he finishes with a needed dose of electricity in electromedical procedures, then extemiter, plus a Finnish dry sauna, he lets his body be energized by hydrojet a wave diathermy, and ends everything with calm and titillating muds. After the usual morning cleanse, Jakub takes a long look at materialized sound.
Sound is just hopping on a silicon ring trying to squeeze out as many shapes as possible. So it sizzles on a polished lens, jumps into a curved loop and then immediately goes back into dainty layered multicoloured grains or it just hops in kryon puffs, there, there and there again. Jakub watches everything, absorbing it and storing it inside himself. Then on the surface of the mirror, he lets his breath fade away, and everything endlessly closes up to Modulor. It is the last type MODULOR DC4xq7 / 12, which in its warm-up phase will encompass 3 billion audio tones of breath.
Jakub has the Supermedia under his skin and unlike us cowards, he is able to intensely live the future. Sometimes, he lays the meadow into the clouds, and believe me, he does it with remarkable ease. A blackhole? Yes, it exists. Jakub is a blackhole. A Conductor? Sea from blue polythene around the building? Splash relocated into a gallery? Broken down into transparent tubes? Yes. Jakub created a sound cave in Meetfactory (club), wall of audio stones, rumbling dust, he touched his wet sound, he felt light of echoes. His latest project is called Engstligenalp. so try to get the name out loud and say Engstligenalp nicely in front of a mirror. Just pronouncing the name of Jakub's project is a project itself, a utopia, speaking the language of rhinoceros, the rustling of mosquito wings in a deep cave. And when asked about what he does, Jakub replies that he does not exactly know. Has he created a programmable cave or not? He is able to carve your picture, carve your movements into a rock, he doesn't want to undress you, lets you wear those green leggings made o 100% polyester and lets you keep your red baton in your hand. He bites out and spreads your movement onto hills, in pieces, in phases, steps. He's able to create his own living system in design and in the play at God, a system that will grow. Living space that will live with you as well as against you, because...