CLUB OF OPPORTUNITIES
Episode 8:
Opening Ceremony
What happens inside a floral puget during an important political meeting? Maybe flowers are not only decorative, beautiful and even more beautifully smelling. But what if they could be more proactive and get involved in issues of global proportions?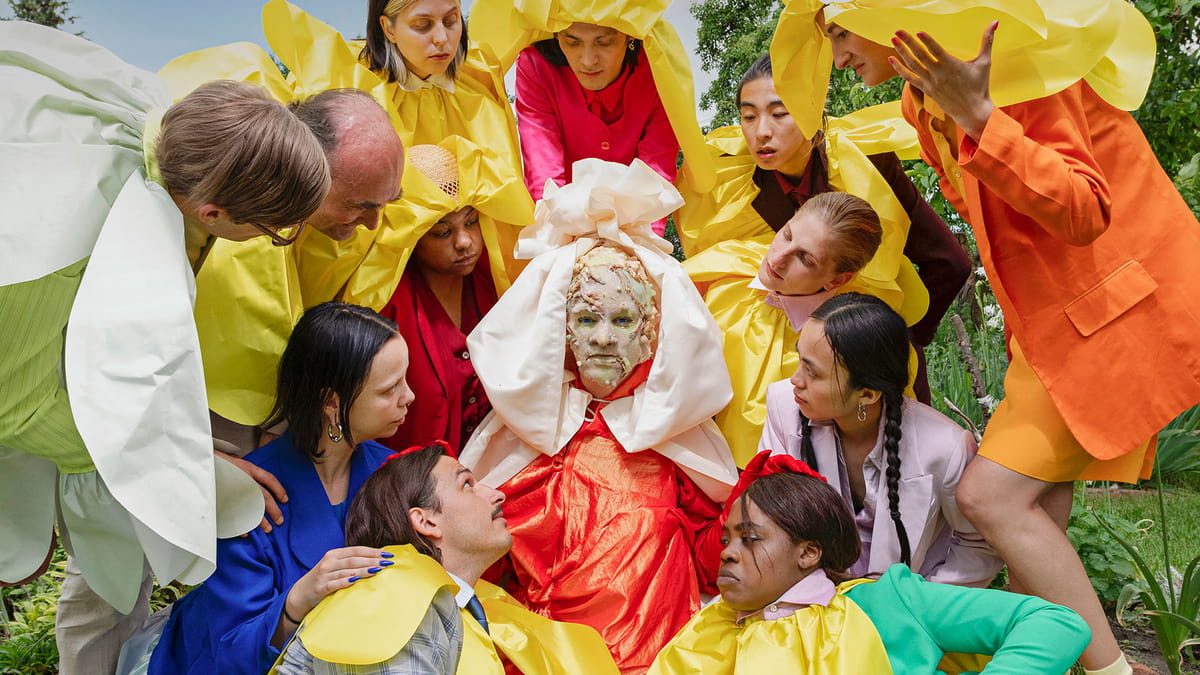 A film directed by Jakub Jansa, created for Flower Union exhibition produced by National Gallery Prague, as part of Czech Presidency of European Union 2022, Curated by Michal Novotný.
Opening Ceremony
10min, 4K video, 2022

In the world of plants, flowers have an irreplaceable representative and diplomatic role. Now they even have their own union, an infinite union in the circle of medicinal flowers. Their garden ceremony for the opening of the presidency is given in the form of what is known as an "appreciation dinner", a type of gala dinner, in our world, held for the elites and the media. As in the people's world, a comedian is invited, here in the form of a "Celery-man". Hybrid characters between vegetable and human.
The supernatural figure of a claivoyante, no longer able to predict the future, takes over the direction of the second part of the film, activating decorative flowers in the form of an eco-sexual festive ritual. The fortune teller shows the plants that by putting pistils and calyxes together they can reach out to the public and change the course of things. So hopefully her ability to see into the future will return.
The work is also an open homage to several works of art history, such as Annie Sprinkle's Marriage to the Earth, or John Baldessari's Teaching the Alphabet of Plants, or Taryn Simon's series of photographs depicting bouquets standing on tables during important political meetings.
Director: Jakub Jansa
Script: Jakub Jansa, Dominik Dabrowski, Alice Krajčírová DOP: Kryštof Hlůže
DOP assistant: Tomáš Merta
Editor: Sebastian Kučkovský
Music: Oliver Torr
Costumes: Overall Office (Karolína Juříková, Kristýna Nováková) Photography: Iryna Drahun
Performance: Jan Kostiha, Ester Geislerová, Kamil Nábělek, Trin Alt Vajd, Markéta Vutru, Dexton Kotora, Katsuhiro Iwashita, Veronika Čechmánková, Jakub Samek, Zai Xu, Linda Vondrová, Rokhaya Gueye, Anita Lubadika, Adéla Sobotková, Mary Nguyen, Linh Nguyen, Agáta Hrnčířová
CGI: Matěj Martinec
Production: Agáta Hrnčířová
Make-up: Majda Vaverková
Mask: Eliška Pitráková
Sound master: Nicolas Atcheson
Grading: Kryštof Melka
Lights: Tomáš Prajsler
Focus puller: Mihir Khulkarmi
Costume assistant: Františka Králíková
Cake: Růst Cakes
Special thanks: Plevel (Beáta Melková), DJ Bingo, Umprum, Vít Svoboda, Jaroslav Gazda, NG Prague